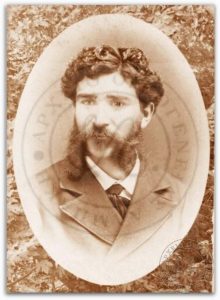 Ioannis D. Lampakis (1851-1916)
Having completed his secondary education, he worked in his father's pâtisserie on the corner of Aiolou and Mitropoleos streets.
He first became interested in photography around 1870. In 1873, he collaborated with the photographer E. Philippides with whom he mostly photographed Byzantine manuscripts and churches, most probably for his brother Georgios.
In 1875, he exhibited photographs at the Third Olympia in Athens, where his "various portraits" earned him a special mention
Circa 1880, he began his collaboration with the Margaritis & Konstantinou photographic studio as an assistant. When he later became a partner, the firm changed its name to "Margaritis, Konstantinou & Lampakis".
In 1890, Ioannis Lampakis photographed the Carnival festivities which, known as the 'Dionysia', were experiencing a revival in Greece at the time. His shots of the carnival floats and masked revellers capture the high spirits and spontaneity of the crowd.
In 1892, he photographed the gymnastic and athletic games.
In 1896, he photographed the first International Olympic Games in Athens, and went on to publish the only known album covering these games. The album presents his ground-breaking view of the games in 35 photographs which avoid the usual portraits of athletes posing before or after their events in favour of a more holistic view of the competition in progress (what we would today call photo reportage). His photograph of Neo Faliro, where the regatta was to have been held but was cancelled due to stormy seas, is indicative of this approach.
As a photographer, he also collaborated with his brothers, Georgios D. Lampakis (1854-1914) and Emmanouil D. Lampakis (1858-1909).
In the Graeco-Turkish war of 1897, Ioannis Lampakis photographed Queen Olga tending to the wounded as a nurse.
Various members of the younger generation of photographers are said to have studied under him, including I. Xythalis, I. Stergiakis, P. Kontos, Kandreviotis, E. Boukas, the celebrated doctor D. Dimitriadis, and A. Gaziadis.
In 1897, he married Sophia Papaioannou from Samos. The couple had four children: Georgios (1899-1982), Margarita (1901-1964), Nikolaos (1903-1988) and Emmanouil (1907-1995).
Ioannis Lambakis was ordained as a priest in 1901.
He died in Athens in 1916.
Alkis X. Xanthakis ESFIAP, Photography historian
---
Note: The Lampakis Family Archives permits you to view, copy and print material published on this website on the condition that the material: (a) is destined for personal and not commercial use; (b) that it is not changed or altered in any way; and (c) that it retains the copyrights notices in their original form. The entire contents of the website are protected by Law 2121/1993 on Intellectual Property. No part of this website can be reproduced in any form or by any means without the prior written permission of the Lampakis Family Archive.